Know Your Status Dallas (National Black HIV/AIDS Awareness Day) - Free Testing
City
Bulverde
County
Comal (TX3616)
Date
02/07/2019
Hours
17:00
Categoria
Events
Official Website
Bulverde
Comal (TX3616)
Tel 2019-02-07
Categoria Events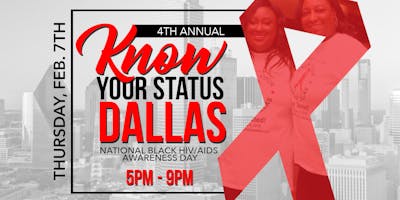 The Chris Howell Foundation invites you to join us for our 4th Annual "Know Your Status Dallas" event on Thursday, February 7th which will be hosted in commemoration of National Black HIV/AIDS Awareness Day. Stop by with a friend to receive free HIV testing and to learn important information about STI prevention. What is Know Your Status Dallas? Know Your Status Dallas is a free event chain open to the public where we take HIV/AIDS awareness and education to at-risk communities in Dallas County with free HIV testing available to anyone ready to take a stand and know their status. We host a signature event each year on or around February 7th in observance of National Black HIV/AIDS  Awareness Day, recognizing the devastating fact that Black Americans have the highest rate of new HIV diagnoses.
It is our goal to decrease new HIV infection rates by educating attendees through community outreach forums, on-site testing, counseling, and other HIV/AIDS informative materials. What is Chris Howell Foundation? The Chris Howell Foundation provides programs and services to vulnerable communities that address disparities in health, wellness, and financial literacy. CHF's programs and services empower individuals and families to achieve self-sufficiency through skills development, increased knowledge, and access to necessary resources. JOIN US AS A VENDOR We have limited slots available for non-profits, health organizations, and businesses to participate as vendors during our Know Your Status Dallas HIV Testing Fair. The Chris Howell Foundation has hosted this event consecutively for the past four years with an average attendance of up to 500 people, making it a great opportunity for you to spread awareness about your services to relevant members of our local community.
If you are interested in participating, please select which package you'd like under 'ticket's or contact us at info@chrishowellfoundation.org for more information.