Ifly Paramus Flight School
City
Wanaque
County
Passaic (NJ2895)
Date
01/15/2019
Hours
18:00
Categoria
Events
Official Website
Wanaque
Passaic (NJ2895)
Tel 2019-01-15
Categoria Events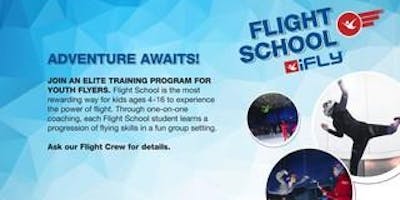 Are you ready to introduce your child to the amazing world of body flight? Flight School is a tunnel league for children ages 4 through 16 who have fallen in love with body flight. Members of our Flight School will be offered coaching through the IBA progression chart to learn basic and advanced maneuvers. 1.    Description iFLY's Flight School is an accelerated weekly flight progression program for kids ages 4-16, designed to teach kids about the sport & to fly with others. This program includes one-on-one coaching by an IBA-rated Flight School Instructor, in groups no larger than 10 students. It is held weekly at participating locations. Competitions may be held locally to train towards the yearly Global Kids Challenge competition. 2.    Details Kids from the ages of 4 through 16 years old can participate Each flyer receives 5 minutes in flight time, more if they fly together & share time Monthly rate at 4 sessions per month is $239.80 (total of 20 minutes)   Additional option to sign-up for a single session at $69.95 or pay weekly $479.60 for a month of double time, 10-min per week.
(total of 40 minutes) *Save $10 per session by signing up for the month   5 flyers max. per 30-minute flight block, 10 flyers maximum for a 60-min block Program will have a dedicated Flight Instructor to ensure consistency and relationship building Logbook for tracking time/progress is included All flight school students will receive a free flight school shirt Light/heathy snacks provided Program will have a dedicated Program Lead to handle program and all communication and booking Kids will learn: Athleticism Sportsmanship & flying with others Increased self-esteem Leadership Discipline Setting and achieving goals  3.    Scheduling Thursday evenings from 6:00pm-8:00pm. Arrival time is 5:30pm, no later than 5:45pm. Flight time is 6:30-7:30pm, or 6:30pm-7:00pm if it's 5 participants or less.
Pre-brief and gear up begins at 6pm. Sunday evening is suggested registration deadline for Flight School that occurs on Thursday.    For more information contact: Syed Sikander Shift Supervisor iFly Paramus 211 Route 4 Paramus, NJ 07652 Phone: 201.733.4359  Email: ssikander@iflyworld.com                 .