Certified Associate in Project Management (CAPM) 4-days Classroom in Buffalo
City
Wheatfield
County
Jasper (IN1802)
From
01/29/2019
To
02/01/2019
Hours
09:00
Categoria
Events
Official Website
Wheatfield
Jasper (IN1802)
Tel 2019-01-29
Categoria Events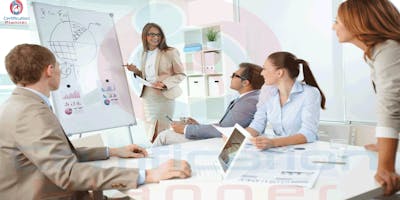 Welcome to Certification Planner, LLC – 4 Days Certified Associate of Project Management (CAPM) Bootcamp Our Certified Associate of Project Management (CAPM) boot camps are led by experienced instructors in over 100 cities across North America every month. Certification Planner is the leading Short and long-term certification and training provider with guaranteed to run classes across states and 96.24% overall success rate. We also offer live, instructor-led virtual boot camps online, with real time classroom experience. We guarantee you'll walk away with all the preparation and confidence you need to conquer the exam and earn your CAPM® Chat with CP Champ to Learn more about CAPM Training Program. Having trained over 100,000 professionals from different domains.
Our instructors with over 20 years of experience build confidence in participants and pass on techniques to understand Project Management Body of Knowledge 6th edition. You will be more confident after attending our boot camp to attempt PMI CAPM examination and handle critical projects. End to end feedback process will ensure our trainers are constantly offering you additional support before, during and after the boot camp. Get in touch with our instructors before or after the boot camp on email or call* to clarify all your doubts. Key Features includes: Official PMBOK 6th edition guide CP study guide developed by the panel of certified project management experts 1000 Exam based Q&A PMI Certified Experienced Instructors Pass in 1st attempt or get your money back* Earn 23 contact hours certificate by completing our 4 days boot camp Fill your PMI application with CP Champ End to End feedback sessions Stay connect with award-winning CP Champ support 2018 and 2019 Training Calendar: Feb 26th - Mar 1st, 2019 | Mar 26th - 29th 2019 | Apr 23rd – 26th, 2019 | May 28th – 31st, 2019 | Jun 25th – 28th, 2019.
(scroll down to find more events) Want to know more? Chat with CP Champ now. To know more about our Certified Associate of Project Management (CAPM) training program, email us at support@certificationplanner.com or call us at +1855.322.1201. What will you learn with CP? Introduction to Certified Associate of Project Management(CAPM) and PMI Responsibilities - Social and Professional Project Management Framework Processes Under Project Management Integration Under Project Management Scope Management Schedule Management Cost Management Quality Management Resource Management Communications Management Risk Management Procurement Management Stakeholder Management Simulations Feedback on Day 4 Who should attend CAPM training? Professionals working as project managers, associate project managers, IT project managers, project analysts, product managers, program managers, project coordinators, senior project managers, project leaders, team leaders, project sponsors, and team members looking to get PMP or CAPM certified.
What do I need to become CAPM certified? Secondary degree (high school diploma, associate degree or the global equivalent) 1,500 hours of project experience            OR 23 hours of project management education completed by the time you sit for the exam What is the CAPM exam fee and is the fee included? PMI courses exam fee is not included Member: US$225.00Non-member: US$300.00 Why choose Certification Planner? Trusted by fortune 500 companies The highest passing rate in the industry High-quality course material Supported by 200+ well-experienced instructors 24/7 dedicated support Job Planner, an online recruitment portal to enhance your career Highly experienced management from the training industry End to end feedback system to support your learning process   We also offer training for Dual LSS certifications, Black Belt, Yellow Belt, Green Belt, Certified Associate in Project Management (CAPM), PMI-Agile Certified Practitioner (PMI-ACP), PMI Professional Business Analyst (PMI-PBA), PMI Risk Management Professional, ITIL Foundation, CISSP, DevOps, Digital Marketing, Big Data and Hadoop, Data scientist, Python, AWS, Microsoft Project, MS Excel and many more.
Head office: 2150 South 1300 East Suite 500, Salt Lake City, UT Phone: +1855.322.1201 Timings: 05.00 AM to 04.00 PM MDT Want to know more? Chat with CP Champ now.   To know more about our Certified Associate of Project Management (CAPM) training program, email us at support@certificationplanner.com or call us at +1855.322.1201. *To know more about the discount and money back, Contact us on chat, email or phone..